Live-ish from Okoboji, Iowa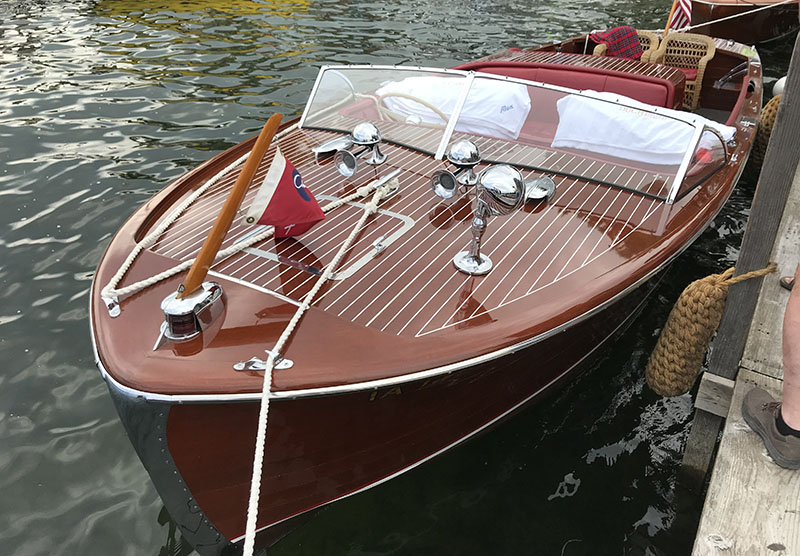 Thanks to fellow Woody Boater and super supporter Dave Bortner from Freedomn Boat Service for reporting in Live-is from the Jerry Dyhrkopp Iowa Great Lakes Chapter, ACBS, Boat Show at Historic Arnold's Park, IA. Take it away Dave!
A glimpse of our future, and it is good!
I simply have no excuse. We have some customers on the Iowa Great Lakes, and we're down there spring and fall, and we know there's a boat show, but I had never been. Well, I went, and had a great time. Why was this year the year? Because of the crew running the show! There's a group of 20-somethings, second- and third-generation Woody Boaters, who have taken an interest in leading their club chapter, and in producing their boat show. With the help and guidance of "old hand" Royce Humphreys, they've done a great job.
(photo, "the crew" left to right: Royce Humphreys, Nate Protexter, Nick Houge, Alex Kent, Jordan Kent, Kristen Drake (with show ambassador Pippy), Wiley Mayne, Marya Kent, and Parker Hays)
The show site, Historic Arnold's Park , is an old-time amusement park which was saved from development in 1999 by visionary community leaders and philanthropists who raised $7.25 million in six weeks to get the job done! It has since benefitted from ongoing philanthropic support, including a recent addition rumored to have been funded anonymously by a name you'd recognize.
The park operates as an amusement park, on the lake, with docks both public, and to serve as the mooring for the "Queen II" excursion boat. The facilities also house the Iowa Great Lakes Maritime Museum, which chronicles the railroad/steamboat era of the late 1800's through recreational boating, with several woodies on display.
In front of this backdrop, an interesting and eclectic gathering of boats came together. The 1937 27' Chris-Craft "Whirlwind", powered with its' original A-120 Chris-Craft V-8, and the 25' Sportsman "La Duchess II", were both displayed by the Jensen/Kent family. Two – count 'em – two Steelcraft cruisers, including Chris and Jean Mugge's 1950 35'-er (on it's seventh set of engines!) were there. Where else would you see two of those? There were lots of Century boats there (Okoboji was and remains a Century place), including Chris and Jean Mugge's 1963 22' Raven, Ann Mugge's pristine 1968 19' Resorter with Chrysler 440, Dan Protexter's 1993 Coronado, John and Sheryl Karlson's 1958 22' Raven. Wiley Mayne's Chris-Craft Rocket was displayed on land, along with two Aristocraft's, and a great Hafer, which was built locally. Royce Humphreys was only able to bring his two Riva's, an Ariston and a Rudy Super, hopefully he'll step it up next year!
In addition to the Rudy Super and the '93 Coronado, there were some other interesting fiberglass boats displayed, including a Glastron-Carlson CVX 23, and a Formula F-233 Interceptor. Great to see these boats embraced in the show!
It's free to attend the show, which brings more folks who are enjoying the park, but it also brought people from the Corvette show, which was taking place elsewhere in the park.
BSLOL had a booth at the show, as well, and Kirk and Darlene Lillie were visiting with folks, and answering questions, all day!
Following the show on Saturday, the boats took off from Arnold's Park for the boat parade, led by the new Fire Boat amid a display of its' fire suppressing capabilities, hoses blasting.
Not only should we all add this show to our list, we should also join their chapter to support the great efforts of these active, engaged, and energized young people. In addition to being excited about boats, they're excited about continuing the tradition of sharing them with the public!
A Huge thanks again to the entire crew there! And Dave. You can visit Freedom Boat Service RIGHT HERE and keep on drooling
https://www.woodyboater.com/wp-content/uploads/2018/07/Photo-Jul-28-10-39-09-AM.jpg
556
800
Matt
http://www.woodyboater.com/wp-content/uploads/2023/03/Woodyboater-Logo-White.svg
Matt
2018-07-30 06:00:03
2018-07-30 06:07:34
Live-ish from Okoboji, Iowa